Surveillance Services
Biological Monitoring Services
The staff at Entomogen Inc. have a solid scientific background, and can provide a number of biogical monitoring services such as:
Biodiversity measurement
Ecological monitoring & species surveys

Invertebrate monitoring

Terrestrial and aerial insects
Aquatic insects
Zooplankton

Amphibian monitoring
Reptile Monitoring

Education

Presentations of workshops and guest lectures on ecological issues

Wildlife re-introductions and transplantation program design
Species at Risk Conservation and Recovery Planning
Research and Project Development

We can develop and implement new research and monitoring projects, making sure that they are scientifically sound.
New strategies and protocols can be developed for qualitative and quantitative assessments.
We can also provide photographic monitoring compilations and detailed statistical analyses of collected data.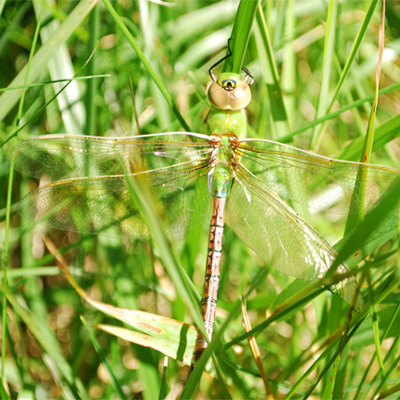 ---
Active Tick Surveillance
Reports of Lyme disease in Ontario have become more prevalent in the past few years. We have experience in conducting active tick surveillance as well as, using RT/PCR technology to detect Borrelia burgdorferi, the causative agent of Lyme disease in ticks.
Let Entomogen conduct a risk assessment in your area of concern. Our full range of services include:
Tick dragging. Entomogen conducts surveillance using the Standard Operating Procedure developed by Public Health Ontario
Tick identification. We have at our disposal six (6) identification keys and Leica disecting microscopes with 40X magnification power. In addition, we can use DNA barcoding techniques to verify our identifications and to identify any damaged specimens
Testing for Lyme disease. We have been performing Lyme disease diagnostics since 2011. We can use RT/PCR technology to detect Borrelia burgdorferi, in tick specimens submitted.
Did you know that ticks can transmit a host of other diseases as well? In addition to Lyme testing, we have been testing for Babesia microti, the causative agent of Babesiosis. If you are concerned with any other tick borne diseases let our staff look into the logistics of customizing a testing program to suit your needs.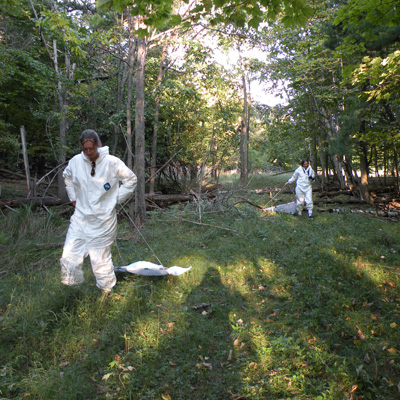 ---
Bed Bug Detection
Bed bugs are a nuisance and can be difficult to eradicate. Pest control companies offer pricey solutions but can you be sure their staff have the expertise to properly identify whether your pest problem is actually a bed bug infestation? Why not be 100% certain by having Entomogen identify your insect using their vast expertise in addition to molecular diagnostics which are more accurate than the human eye.
Why should you choose Entomogen for your bed bug inspection?
Entomogen has developed a proprietary BBPCR* assay which can detect bed bug DNA left behind in the form of fecal flecks, droppings from old blood meals, cast skins (exuviae), crushed exoskeletal remains, and even broken body parts (e.g. antenna and legs)
Our team is more discreet that calling a local pest control company
Results are more accurate than the human eye. Entomogen's BBPCR test is species specific and will not produce false-positives by cross reacting with other organisms.
Our BBPCR test is very sensitive and can determine low levels of bed bug DNA, allowing for early detection before it becomes a full infestation
Hospitality organizations (hotels, restaurants, etc.) can order cases of kits to be used on an as needed basis. Simply swab the entire room and courier the swabs to Entomogen for testing.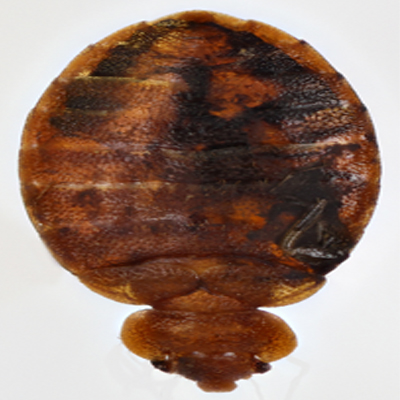 ---
West Nile Virus and Nuisance Mosquito Risk Assessments
West Nile virus is established in Ontario and has been a health concern for residents since 2001. We have a great deal of experience conducting West Nile virus and nuisance mosquito risk assessments over the years. Our risk assessments can be customized to include any of the following services:
Adult mosquito trapping using a variety of trapping methods
Larval mosquito sampling, to determining breeding sites
Identification of adult and larval specimens collected
Testing for West Nile Virus, Eastern Equine Encephalitis and even Zika Virus. We have been performing West Nile Virus diagnostics since 2001, Eastern Equine Encephalitis diagnostics since 2004 and Dr. Hunter's lab at Brock University has been testing from Zika Virus. Virus detection is performed using RT/PCR technology.
Written report including data analysis and recommendations from a Medical Entomologist and a Registered Microbiologist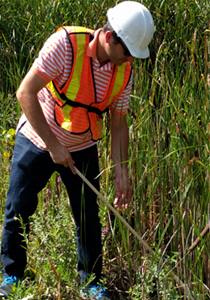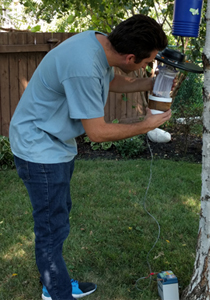 Contact us and we can help design a surveillance package.